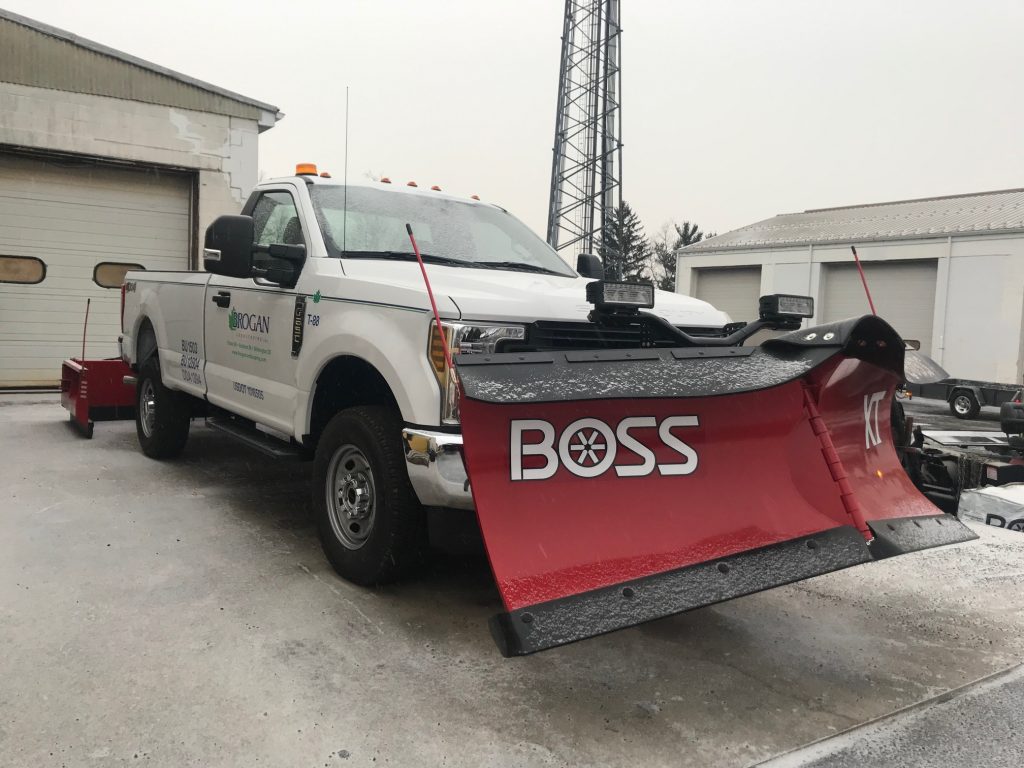 While late summer's weather is still shining bright on Berks County, there's no denying how quickly winter conditions can arrive. To prepare for the incoming cold season's ice and snowfall, most people need a tough, reliable snowplow solution to ensure their work stays productive while enduring winter's chill. 
At Levan Machine & Truck Equipment, we offer a wide range of tools and options when looking for proper snow and ice control, both for at home and on the job. We also provide quick turnarounds on installation, routine maintenance, and repair services for all your winter snow control needs. Let's take a closer look!
Finding the Right Snowplow
Our large inventory of snowplows will support you through any winter conditions, and we offer the best products from renowned brands like BOSS Snowplows and Henke. Whether you want to expand your snow plow fleet or if this will be your first winter plowing experience, we are dedicated to helping you get your snowplow properly set up before snow touches the ground. And remember that if you recently got a new truck, it may require a different snowplow than the one you used last season.
Snowplows Types
Discover the rugged snow plow that's a perfect fit for your truck or ATV at Levan Machine and Truck Equipment! Our experienced team members can equip your vehicle with straight snowplows, V-snowplows, or boxed snowplows depending on the setup that works best for you. For instance, while straight snowplows can remove snow just as well as V-snowplows, the V-snowplow will better-cut through those icy Berks County storms with greater ease.
And if you're looking for a specific kind of snow plow material, Levan also provides poly-snowplows in addition to steel snowplows. Choosing a poly-snowplow will guarantee slickness so the snow doesn't stick to the plow frame, and you also won't encounter any rust or dents later on. On the other hand, going for a traditional steel snowplow has been the standard for many years because it's tough enough to endure any Pennsylvania winter weather.
BOSS Snowplow Options For Your Needs
When it comes to trustworthy brands for quality snowplows, there's no better product than those from BOSS. But the particular BOSS snowplow you need depends on the kind of snow removal you need to accomplish. While all BOSS snowplows are made tough and durable to get you through any Montgomery County winter, you can choose between a BOSS Straight Snowplow or a BOSS Power-V Multiposition Snowplow.
A BOSS Straight Snowplow is usually best for most jobs and is a great solution for clearing home driveways. But if you're working on more commercial plowing and have to deal with very icy snow, the Power-V Multiposition Snowplow is designed to cut through all kinds of ice without a problem.
BOSS DXT Snowplow
Tough Berks County winters need a tougher snowplow, and this is where the BOSS DXT snowplow thrives. The BOSS DXT supports you with a patented Dual-Trip Design. This design provides both trip-edge and full moldboard trip technologies, so when your plow strikes something hidden under a pile of snow or clashes with a frozen snowbank, you'll have the protection you need to be able to keep on plowing. Get your snowplow where it needs to be and move large amounts of snow smoothly and effortlessly with the BOSS DXT's multi-position plow blade.
BOSS Heavy Duty Snowplow
Does your work require a big, municipal-grade snowplow to get you through the Berks County area's snowstorms? The BOSS Heavy-Duty Straight-Blade plow is the perfect tool for you! This plow is designed for medium-duty trucks and offers a Full Moldboard Trip Design with enhanced blade curl, so no matter how deep the snow or what obstacles your plow comes into contact with, you can trust your plow has the protection it needs to keep going. The BOSS Heavy-Duty Straight Blade plow comes standard with the SmartLight3 LED Headlight System, so you can maintain visibility regardless of how snowy conditions get.
BOSS EXT Snowplow
Do you need to plow parking lots in the Lehigh Valley area? The BOSS EXT is designed to fit on ¾ ton and 1 ton trucks and also offers a heavy-duty push frame attachment bar for added strength. This snowplow easily expands from 8 to 10 feet with the push of a button, so you can plow parking lots and wide open spaces with ease. The expandable, fully hydraulic, pitched-forward wings will help you cover more ground and move snow more efficiently.
At Levan Machine and Truck Equipment, we're proud to provide a huge selection of snow plow options and to support you for all your snowplow installation, repair, and maintenance needs. We always want our customers to have peace of mind knowing their snowplow capabilities can handle anything winter brings to the Lehigh Valley region. 
If you have any questions or concerns about whether your truck is fitted with the right kind of snowplow, or if you just want more information about which snowplow options are right for you, contact us today to speak to one of our dedicated staff members. We're ready to help you!