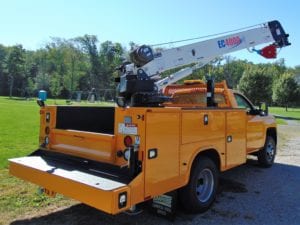 Levan Machine and Truck Equipment has an excellent selection of crane body trucks to meet customers' needs in the Lehigh Region, including Berks, Lehigh, and Montgomery counties. If you are looking for a vehicle that enables you to lift heavy or oversized objects easily, a crane body truck may be the answer.
A crane body truck has a truck bed fitted with a reinforced heavy crane. Crane body trucks are constructed with lifting heavy weights in mind. They are reinforced for extra durability to ensure that the crane body truck can withstand the torsional forces that can occur during lifting, allowing them to effectively and safely lift heavy goods.
Crane body trucks are available in a variety of sizes to meet your needs. We offer a range of options from light-duty to heavy-duty to accommodate whatever you need to lift. Crane body trucks are highly effective tools with various uses in construction, mining, and even agriculture. Whatever new project you are taking on, Levan Machine and Truck Equipment has the right crane body truck to fulfill your needs.