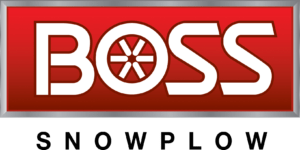 Winter is approaching fast, and with it comes snow, sleet, ice, and the need to get your trucks and plows back on the road. Whether you're working on driveways around town or large municipal jobs, you need tools and equipment of the highest quality that you know you can rely on to get the job done. In the world of snow plowing, BOSS plows are some of the most popular and well-regarded options on the market. Let's take a look at what makes them so great!
Smart Technology
BOSS snowplows are known for their advanced tech that improves on age-old plow features. For instance, their SmartHitch technology allows you to be ready to plow far faster than you would be with traditional snowplows, while their SmartLight solutions shine further than any other plow light, giving you better visibility in storms and inclement weather.
Impeccable Versatility
You'll be hard pressed to find a plow that can surpass BOSS for multiposition functions. Their controllers make switching positions easy and seamless, and with BOSS's chainless hydraulic lift system, you can reduce the bouncing that you would get with a traditional chain lift and enjoy full-floating capabilities for your plow. 
Fantastic Warranties
Quality is important when choosing a plow, not only initial quality, but long-term as well. For a piece of equipment that will last you multiple seasons, you have to be confident in the product you're getting, and it helps when a manufacturer is confident too. The 2-year limited warranty that BOSS offers for material defects is a sign of their assurance in their plows, and it can help with your peace of mind as well to know that your equipment is covered and is set to last you a long time.
Invaluable Resources
BOSS is about more than just quality plows– they're also about going above and beyond to improve your experience and increase your convenience. One of the ways that they do this is with their easy-to-access online library of manuals and informational videos. Designed to make it far easier for you to own and operate their products, these resources are quick to find and simple to use, allowing you to troubleshoot fast and get back to work without wasting precious time!
With qualities like these, it's no wonder that BOSS snowplows are so popular. If you're on the lookout for new snow plows for the coming season, the many BOSS options that we have available here at Levan Machine and Truck Equipment might be right for you. Contact us today to learn more! One of our expert team members will be happy to help you find the plow that will work best for you.