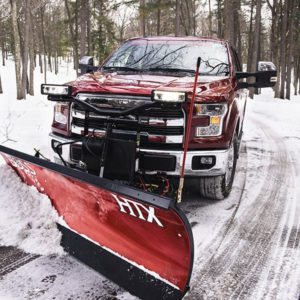 The summer is beginning to wind down, and before we know it, there will be hints of snow in the weather forecast and it will be time for the plows to hit the road again! The time to start preparing your trucks, plows, equipment, and accessories for the winter isn't when the first flakes begin to fall– it's now! Getting ready ahead of time means that you'll be prepared for the unpredictability of the season, and you'll be able to roll with the punches and keep your community streets clear and safe.
Plow Installation
Finding the correct snow plow for your truck and your needs and installing it can be a bit of a hassle. Instead of trying to fit this process in with all of the other tasks on your plate, let Levan Machine and Truck Equipment help you out! We're snow plow experts and can help provide you with exactly what you need to conquer the snow and ice this winter.
Choosing the Correct Type
Different types of snow plows are best suited for different types of trucks, and it's important to make sure you're using the right combination to get the best results. At Levan Machine and Truck Equipment, we've seen it all, and we know how to point you towards a plow that will be the right size and weight for your truck. 
We'll need you to provide us with certain important information such as the trucks make and model, the year, the engine type, the drivetrain, and the body style. It's also important for us to know the kinds of plowing jobs you plan on doing, like whether you have a municipal contract and will be clearing main roads or you'll mostly be working on people's driveways. Once we know these facts, we'll help you find a plow that's a perfect fit.
New or Used
When you buy a used snow plow as a way to save money, you'll most likely be buying from a private seller. This can seem like a wise financial decision at first, but in fact, it can end up costing you more money down the road. Private sellers don't have the knowledge and expertise that a company like Levan Machine and Truck Equipment can provide, so there's a chance that you'll end up with a plow that's completely wrong for your situation– too big or too small, or too heavy for your truck to handle. Instead, buying a new plow from a truck expert ensures that you get the right product the first time around, saving you time, effort, and money!
Salt Spreader and Accessory Installation
There's more to snow removal than snow plows, and at Levan Machine and Truck Equipment, we're ready to help you navigate the world of snow management accessories as well! From salt spreaders to liquid sprayer parts, there's a wide variety of options out there to help you keep snow, sleet, and ice at bay, some of which can be complicated to install and manage. The team here at Levan Machine and Truck Equipment is on the job to help you out! We can set you up with the parts and accessories you need and ensure that they're ready to go to work when the first snowfall hits.
With the help of the experts on our team, you can be ready for anything this winter with professionally installed snow plows and snow control equipment. Ready to learn more? Contact us today to discuss your vehicles and equipment needs!