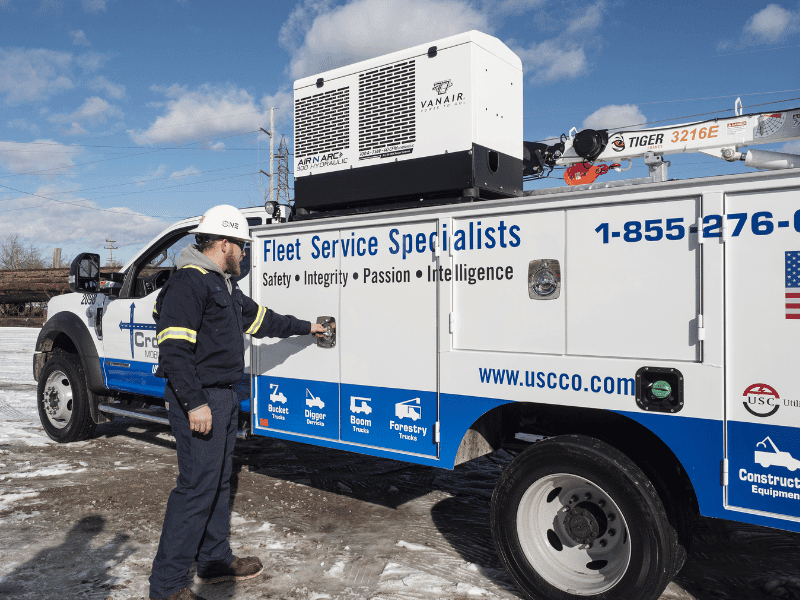 Finding a truck-mounted compressor that meets the professional requirements of the services you provide is not a one-size-fits-all task. Much like other equipment installed in the manufacturing and outfitting of a utility truck, a lot goes into figuring out which compressor options best meet your needs. Based on our own team's expertise and the great guidance in the most recent March issue of Utility Fleet Professional magazine, we want to shed some light on a few important best practices to help you consider the best compressor for your business. 
For instance, several factors, including the compressor's placement on the chassis and ensuring appropriate flow rates, must be considered. To assist fleet managers in selecting the appropriate compressor, we've created a convenient checklist that includes insights from two of the best air compressor manufacturers, Vanair and VMAC. Let's take a closer look!
Explore Air Compressors Possibilities
There are several types to choose from, including cross-mount, engine-driven compressors, engine-mounted, under-hood compressors, and PTO-driven, under-deck compressors. However, the most popular choice, according to Vanair, is the PTO-driven under-deck compressor. And why not? It boasts the highest power and largest range of CFM ratings (50-405) and can be combined with a generator, an SAE B pad for hydraulics, or even a combination of all three.
Factor in Life-Cycle Duration
When selecting an air compressor, remember to factor in the length of its life cycle. For instance, rotary screw air compressors are renowned for their durability, with some even lasting over 100,000 hours. Given that the average vehicle life cycle is 10 to 13 years, under-deck air compressors are expected to last substantially beyond that. Overall, the life cycle of an air compressor is a crucial aspect to consider when making your selection.
Consider Total Operating Costs
Don't just focus on the initial purchase price when selecting an air compressor. Keep in mind that the total cost of ownership (TCO) may exceed the initial purchase price, and it can add up quickly, especially if you operate multiple compressor-equipped trucks. Vanair warns that the total life-cycle cost differential between compressor manufacturers can amount to hundreds of thousands of dollars over a ten-year period for most utility fleets. That's why it's essential to consider total life-cycle costs when evaluating bids.
Consider Weight Carefully
The weight of the truck-mounted air compressor is an essential factor to keep in mind. Cross-mount compressors are bulky and heavy, weighing at least 2,400 pounds, occupying a large space, and require an additional engine, making them expensive. Moreover, they need higher GVWs, which might require a commercial driver's license. Conversely, PTO-driven compressors are Tier 4 emissions-compliant, cost less, require less space, weigh around 400 pounds, offer high reliability, a long lifespan of around 110,000 hours, and increase the truck's maneuverability without the need for towing, thereby reducing insurance costs.
Explore Power Options
When choosing a truck-mounted air compressor, most operators opt for fuel or power options that are already on the truck. Hydraulic air compressors are preferred by operators who have trucks with hydraulic cranes. In contrast, matching the air compressor to the vehicle's existing fuel type is most convenient for trucks without hydraulics, according to VMAC.
Account for Weather and Operating Conditions
Weather conditions can negatively affect system materials and parts. As a result, remember to consider compressors and their mounting in terms of preventing issues from external water, ice, and snow-control chemicals. This will help ensure ruggedness for any off-road duties you need to accomplish. Additionally, where a truck operates matters because certain parts of the country may require additional cooling or winterization. Furthermore, do not overlook duty cycles. Powerful redundant transducer and thermistor systems are available to provide uptime, reliability, and dependability for PTO-driven air compressors, according to Vanair.
By considering factors like weight, power options, operating conditions, and more, you can find the perfect compressor to fit your professional ambition. Don't underestimate the importance of this decision! Poorly chosen compressors can lead to lost productivity, increased downtime, and added costs. Contact Levan Machine & Truck Equipment to help you make the right choice and keep your business operating at its best. We have the expertise to help you decide which options will work best for you!