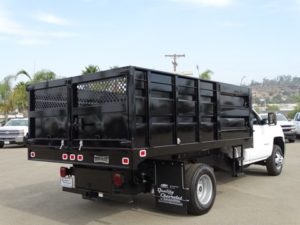 Landscapers, like so many other fields and careers, rely heavily on their tools to get through a day's work. If your equipment isn't up to the task, nothing you have to do on any given job will get done properly! Of the many pieces of equipment that a landscaper uses, their vehicle is one of the most important and yet one of the most overlooked. When you're focusing on other tools, it's easy to forget that your vehicle provides storage, strength, and transportation, all of which are crucial to landscaping work.
Getting a truck and upfitting it to suit your needs are incredibly important for any landscaper, and if you work in the Fleetwood, PA area, Levan Machine and Truck Equipment is the place to turn for these services. Here's what you need to know about custom landscape truck body upfits, and the different types of landscaping trucks!
Why Go Custom
It can seem like the best idea to buy your landscaping trucks from private sellers. These privately sold trucks can be perceived as more cost-effective, but they might end up costing you more in terms of effort and time down the road. Private sellers make recommendations about your truck based on what works best for them, but they don't often have the experience or understanding required to put you in a truck that fits your specific needs. Getting a custom landscape truck body installation means that your vehicle is completely tailored to you and your requirements, resulting in a better fit that allows you to work more efficiently over time.
Open Flatbed Trucks
Open styles of flatbed trucks are useful for landscapers because of how easy it is to load and unload equipment from them. However, for your tools and equipment that need protection from the elements, the weather, and various road debris that might damage them, flatbed trucks are not the best option.
Dump Trucks
When you need to haul materials for a project like gravel, mulch, or waste like grass clippings, dump trucks are ideal. However, they are fairly single-use in their application since they're not useful for transporting tools and equipment. If you do a lot of big jobs that require large amounts of loose material, dump trucks are valuable to have, but if this isn't what your workload usually looks like, other body options might be a better choice.
Box Trucks 
Because they're fully enclosed, box trucks provide the protection from weather and the elements that open flatbed trucks can't provide. They can also be useful when you're transporting materials that need to be kept dry, which a standard dump truck won't be able to do very well. They can be limiting in their size, however, and are difficult to drive in tight spaces, qualities that are worth taking into account.
Pickup Trucks
The jack of all trades, pickup trucks are a very versatile landscaping option. They're small enough to drive easily, even in tight spaces, and they can be used for equipment transportation and material transportation as needed. However, their small size means they're pretty much useless for your larger equipment, and they might not be able to provide the muscle you need for big jobs.
As you can see, there are many different options for landscape truck bodies, and each has its own advantages and drawbacks. The upfitting experts on the team at Levan Machine and Truck Equipment know these options inside and out, and when you work with us you'll have the benefit of our knowledge and experience in helping you find just the right fit! Ready to learn more? Be sure to contact us here!