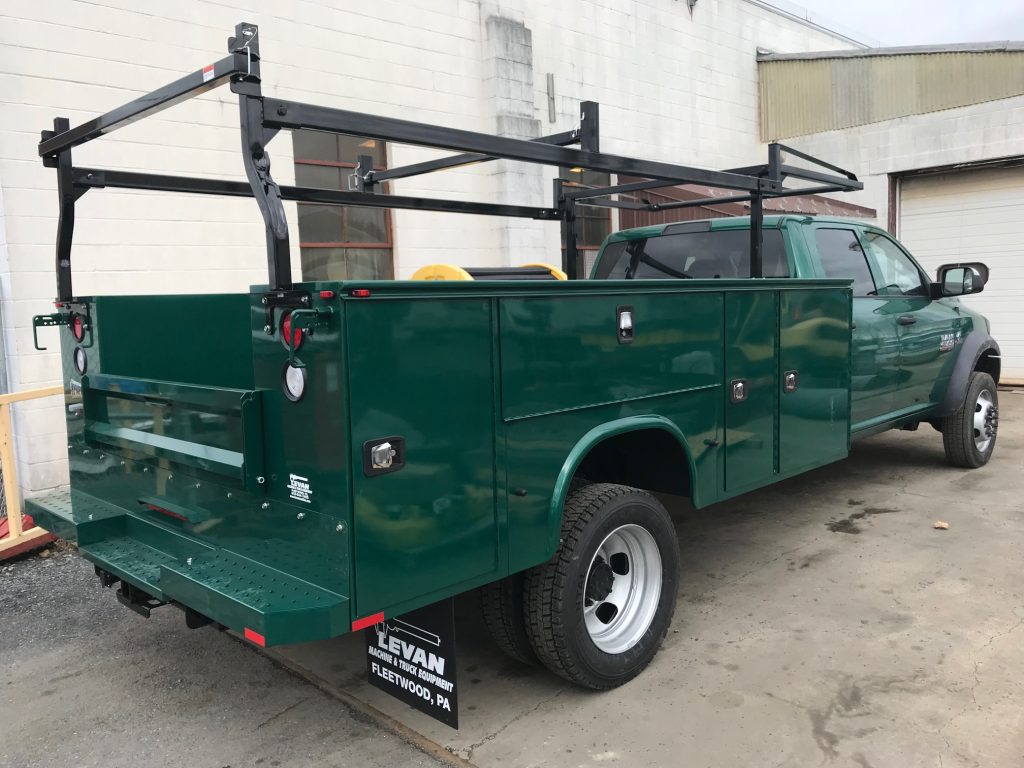 Are you searching for utility truck bodies that can withstand the test of time? At Levan Machine and Truck Equipment, we understand the importance of planning and designing the perfect upfitting solution for your vehicle or fleet. We work closely with you to create a custom truck body that caters to your unique needs. Whether you're in construction, landscaping, or any other industry that requires heavy equipment and tools, we have the perfect solution for you.
Our utility body upfits take functionality and craftsmanship to the next level, providing you with the freedom to design a truck body that best serves your work. We are your ideal upfitting partner to help you plan, design, and upfit your truck, van, or fleet with the quality work that reflects on your bottom line. Let's explore just a few quality upfit options available to support your utility project needs. 
Steel & Aluminum Options
When it comes to choosing between steel and aluminum service bodies, we trust Knapheide, the superior galvanneal steel construction that resists rust, and the lightweight yet not light-duty solution offered by Knapheide's aluminum service bodies. Our aluminum truck bodies provide higher payload capacity, better fuel mileage, and the best structural warranty in the industry. We will assist you in selecting the right material for your commercial upfit solution(s).
Brand Name Expertise
If your business needs a dump body to ensure quality work, we carry Airflo, TruckCraft, EZ-Dumper, Knapheide, and Bibeau, delivering efficient performance no matter the job. Among our cut-above landscape body solutions, we proudly carry both Knapheide and Morgan. And, when it comes to crane bodies, Knapheide's mechanical crane body solutions offer the perfect balance of strength and efficiency, while Stellar brings innovation to complete jobs more quickly.
Customized Utility Truck Boxes
At Levan Machine & Truck Equipment, we carefully craft every truck utility box individually, then weld the boxes together to create the truck body unit. Our custom approach to truck body construction allows us to design and build storage areas that are perfectly tailored to your needs, keeping you organized and efficient on the job site. Our solutions can include everything from specialized compartments for hand tools to larger storage areas for heavy machinery and equipment. 
Truck Bodies for Any Job
One of the key advantages of our custom truck bodies is their versatility. No matter your industry or job requirements, we have a solution that meets your needs. Our truck bodies are perfect for transporting heavy machinery, carrying landscaping tools and equipment, and more. Moreover, we can customize our truck bodies to fit a wide range of vehicles, from pickup trucks to heavy-duty commercial trucks. Our custom solutions fit perfectly and provide the functionality you need.
With Levan Machine and Truck Equipment's custom truck body solutions, you can rest assured that you have the ultimate solution to make your next utility project a breeze. Contact us today to learn more about our custom utility truck bed services and how we can help you find the perfect solution for your vehicle.