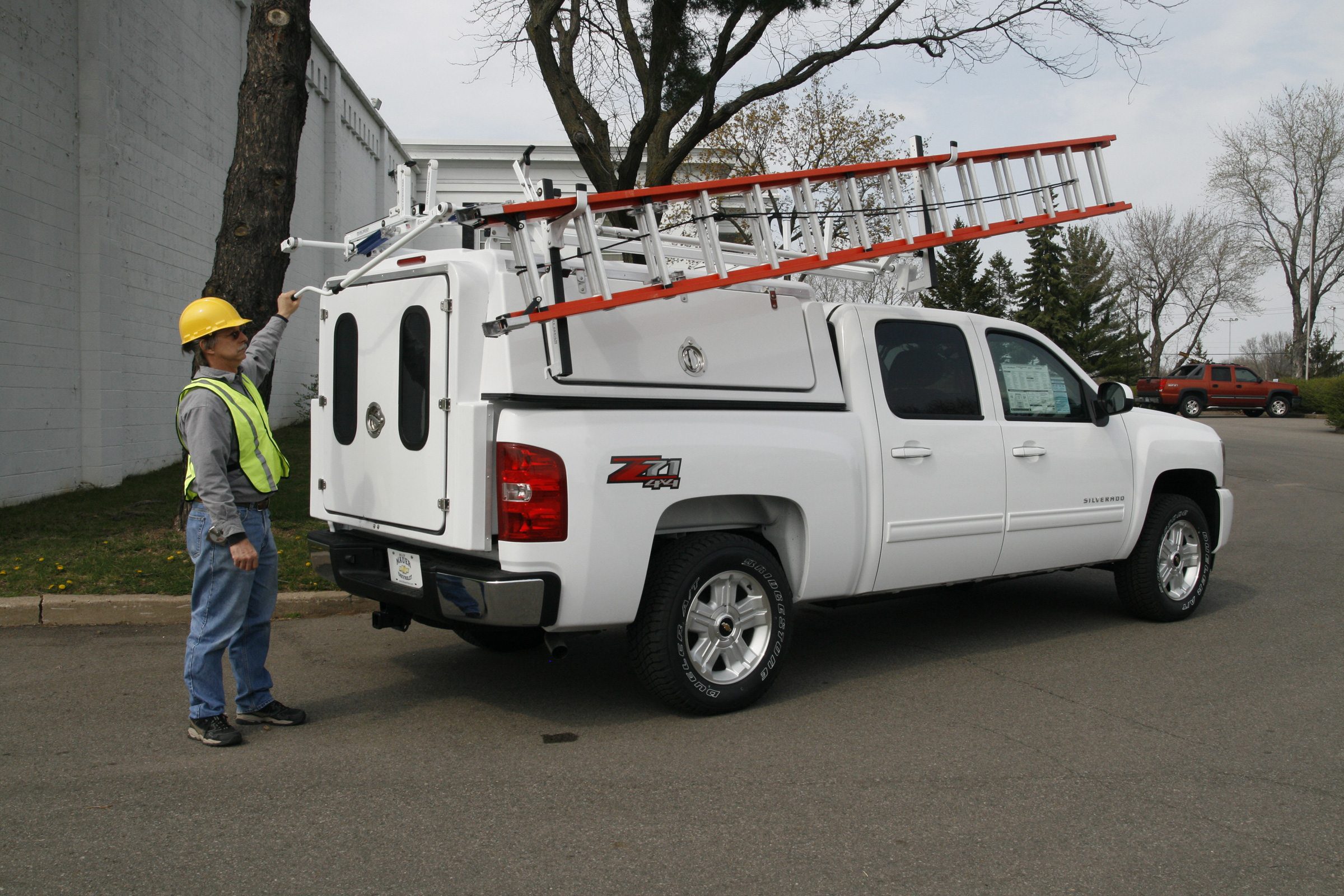 When you offer professional services with a dedicated work truck to carry your equipment, it's important that your vehicle is fitted with the best solutions for convenient and efficient results. A well-equipped truck can offer the boost you need to succeed so that you can always guarantee quality work. In case your work truck needs some upgrades, like new toolboxes, storage shelves, ladder racks, or more, Levan Machine and Truck Equipment has all the equipment options you need! Let's take a closer look at just a few of the popular truck equipment solutions we offer so you can ensure a job well done every time.
Ladder Racks
Ladder racks are one of the most common equipment needs for service and work trucks. Equipping your truck with a ladder rack will help you increase the hauling capacity of your pickup truck and make it a breeze to load and unload ladders. Professional roofers, landscapers, plumbers, and many others can make use of a ladder rack to help them safely store and easily retrieve not just their ladders, but also pipes, sheets of drywall, and plywood. Additionally, having ladder racks installed on your truck by professionals will help to prevent slips and mishaps with better stability and positioning for anytime you use it. Our wide range of ladder mounting options supports you with increased versatility, and quality, heavy duty materials that help create a rack that lasts you as long as your truck will.
Toolboxes
Do you need to install a new tool box on your work truck? The majority of work trucks don't simply arrive pre-built with all the storage solutions you need to run a professional-grade operation. Luckily, at Levan Machine & Truck Equipment we offer top-rated toolbox solutions that fit trucks of every make and model, in addition to expert installation services so you can always rely on your storage equipment. Integrating toolboxes on your work truck will help provide you with ample organizational space to store everything that you might need. Toolboxes also protect your work tools from environmental hazards by keeping them clean and dry.
Lighting Solutions
When you work at night or need specialized illumination to display the status of your service truck on the road, the lighting possibilities are nearly endless. For instance, Levan Machine & Truck Equipment can utilize strobe lights to call attention to your pickup truck. You can also use LED light bars to improve visibility in hard-to-see locations. Whether you're on the lookout for emergency or heavy-duty lighting, wire harness and visibility systems, or more basic after-market lighting solutions for your truck, we're proud to offer a variety of lighting solutions to meet your needs. 
Bed Covers & Truck Caps
As an experienced truck bed cover and accessories dealer, Levan Machine & Truck Equipment is committed to helping you make the best cover solutions to keep your truck easy to clean and protected in all weather and work conditions. We provide a wealth of experience when it comes to helping you determine the best truck bed covers and accessories for your needs. Simply put, we offer the best choice of soft, roll-up, hard folding, retractable, and custom fit truck bed covers and truck caps from a wide range of popular brands, including Knapheide, Tonneau, and more. 
For all your truck equipment needs, you can trust Levan Machine & Truck Equipment to provide the highest-quality brands and services so you can focus on the job at hand. For more information about our truck equipment options and services, feel free to contact us today!