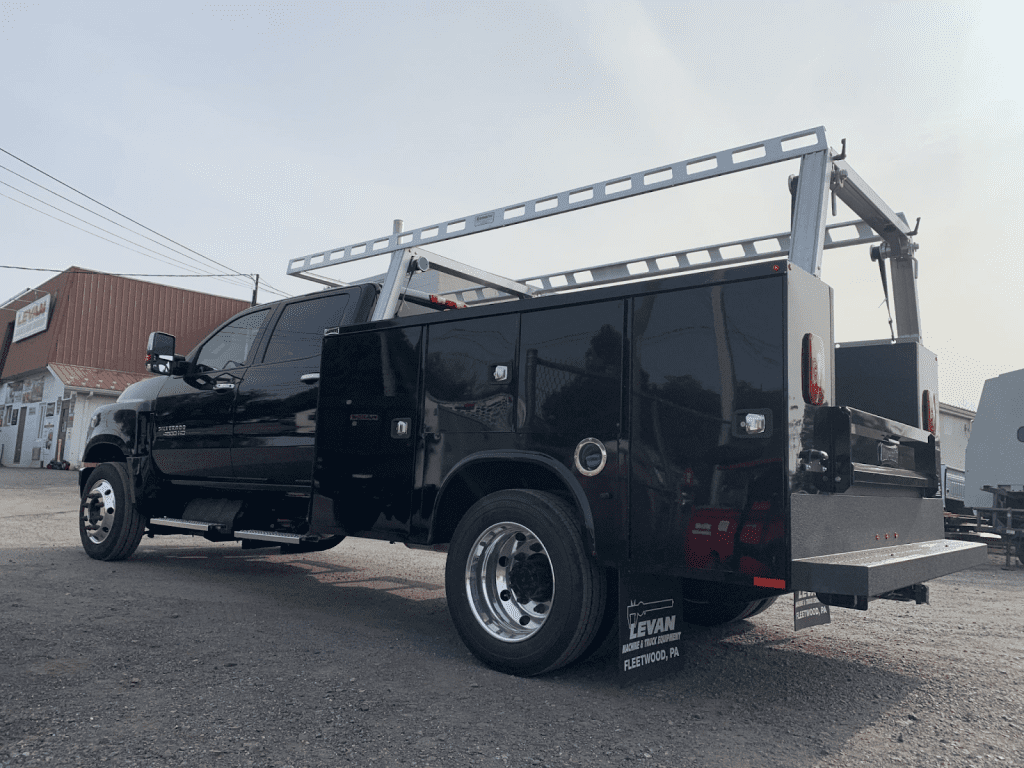 There are almost as many different kinds of truck bodies as there are uses for a truck, and this is mostly a good thing! Being able to get specific about the ways in which your truck has to perform is always helpful, and a good truck and machine equipment shop will be full of solutions that can make any truck better at its job. The one downside is that with so many options available, navigating through all of your choices can be a challenge. To make it easier on you, here's our ultimate guide to the different kinds of truck bodies and what they're each best suited to!
Utility/Service Bodies
Service body upfitting, or utility truck bed customization, is the best way to get a totally custom solution for your truck. Any upfit from simple shelving inside a van to a full dump body is possible, but there are three things you need to remember during your upfit process: always keep the outline of the job details in mind, make sure the size and weight of your vehicle are right to start with, and always prioritize the safety of the vehicle. An upfitting partner like Levan can offer you suggestions in all of these areas!
Mechanic and Lube Bodies
Mechanic and lube body trucks offer the amount of durability needed to tackle your most challenging job sites. Mechanic trucks provide exceptionally reliable, productive, and safe, and lube body trucks offer tailored designs that can accommodate different kinds of product tank and reel cabinet configurations. They can be useful in a wide range of industries, including agriculture, construction, forestry, lawn and landscaping, municipal public works, oil and gas, snow and ice control, and utility.
Crane Bodies
The bed of a crane body truck is fitted with a heavy, reinforced crane. The reinforcement is important for the durability of the crane, allowing it to withstand the torsional force of lifting a heavy load. Four main points are important when choosing a crane body truck: capacity, truck design, accessories, and crane location. For capacity, you need to find a crane that can handle the weight of the load and the height you need to lift it– for example, if you need to lift 500 pounds 20 feet, your crane body truck needs to have a capacity of at least 10,000 foot-pounds. For truck design, you need to make sure that the type of truck you have is well suited to the crane and loads you have in mind. Additional accessories can be helpful on the job when added to a crane body truck, such as forklifts or buckets, so it's good to consider your average job and whether any of those accessories will be helpful to you. Finally, you need to choose between a front or rear mounted crane. With a front mounted crane, you get better stability, but rear mounted cranes have better capability.
Dump Body Inserts
A dump body insert is essential for minimizing manual labor on your work site and maximizing efficiency. It combines the cost effective qualities of a pickup with the heavy-duty, hardworking potential of a dump truck, and can increase your truck's capacity as well as the speed at which you're able to work! You can find both of the two most popular brands of dump body inserts– TruckCraft and EZ-Dumper– at Levan, with models available to fit standard 8' beds as well as 6' short beds and custom options.
Platform Bodies
Platform trucks are great for heavy duty hauling jobs in a wide variety of industries! There are four basic types of platform loaders that you'll need to choose from to best suit your business and the work you do. Stake truck bodies are best suited to the service industry, including landscapers, painters, and maintenance. Gooseneck truck bodies are great for heavy day-to-day hauling, like the kind done by farmers, and miners. Contractor platform trucks are for the heavier hauls of professionals like plumbers, electricians, welders and roofers, and concrete truck bodies are good for contractors or anyone else who needs to haul things like bags of concrete and wheelbarrows.
Hopefully you now understand a bit more about the wide variety of truck bodies and truck upfitting options offered at Levan Machine and Truck Equipment. If you need more help, a member of our expert staff can guide you! Contact us here for more information.