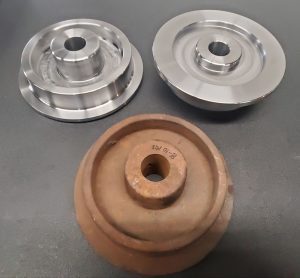 With the ongoing supply shortages and regulations due to the pandemic, it can be very difficult to find the machine parts you're looking for so your business can keep running well. Luckily, at Levan Machine and Truck Equipment, we know that reverse engineering is a particularly applicable solution for replacing the parts you need that your company's supply chain may be struggling with.
How Supply Chain Delays Impact Our Clients
For our customers interested in the benefits of reverse engineering, time is usually of the essence. They usually need to get a piece of equipment or machinery operational as soon as possible. Since we do a lot of manufacturing machining, in many cases a customer has to wait an extended period to get a replacement part for a machine that breaks down.
For instance, we have a few food-grade manufacturing customers that have machines built in Europe, so getting replacement parts isn't easy. And given the current supply chain issues, the delay is even longer than usual. That means we are either tasked to fix the broken part or reverse engineer the broken part to make a new one. We can often make a new part faster and still within budget too.
We do this kind of work frequently, particularly when trying to repair a part within a customer's manufacturing line. We are doing that more now than ever due to supply chain issues. We will always do projects like this, but we may see less requests for this type of project when the supply chain returns to more "normal" or pre-Covid operating standards.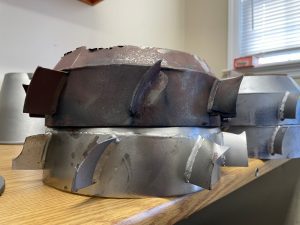 What is Reverse Engineering?
Reverse engineering is when you dismantle an object (such as a machine part) to see how it works and how it was made. You need to understand that sort of information before anything else because otherwise you don't have a blueprint to work from. A standard reverse engineering process might involve manually measuring and collecting data of a physical model's dimensions, using hand tools such as micrometers, Vernier calipers, and gauges.
At Levan Machine and Truck Equipment, our machine shop often is given a part that broke down in a manufacturing line, and to get the machine up and running as fast as possible, a machinist will take lots of measurements and determine the material used so they can make a new blueprint. They then use the print to make a new part. Essentially, it's being tasked with making a part without the instructions, and we have to then figure out the instructions.
What are the Benefits?
Improving products like machine parts is one of the essential drivers of reverse engineering projects. Additionally, reverse engineering different products can help both individual businesses and entire industries optimize supply chains with decreased costs and increased production. The main goals of reverse engineering for improving a part include:
Reducing the cost of creation
Refining features that improve usability
Improving product performance
Replacing a product with a new updated version
By improving a given part or product's creation process, its cost can potentially be reduced and its performance improved. It can also be replaced by a newer, more efficient version of the product.
What Does the Process Involve?
Reverse Engineering continues to be a growing service for Levan Machine and Truck Equipment. Many customers are turning to us for projects where we're able to take a concept and make it a reality.
While all of our reverse engineering techniques can be tailored to meet your particular needs, a standard reverse engineering process could look like the following:
Use the existing object or part as a basis to reverse engineer by taking measurements and conducting calculations toward duplication.
Develop a blueprint using a CAD program.
Sometimes it is necessary to build a "model" before attempting to use a high-grade steel or aluminum, which can be costly if the measurements are off by even the slightest calculation.
Build the part and then double/triple check the measurements to make sure the engineered part EXACTLY matches the original object provided as a starting point.
If you have any questions about our reverse engineering process, don't hesitate to contact the experts today at Levan Machine and Truck Equipment. We're dedicated to providing you with unmatched engineering and our years of experience helping customers secure the machine parts they need to support their business.
For more information about our machine and industry services, read on here.