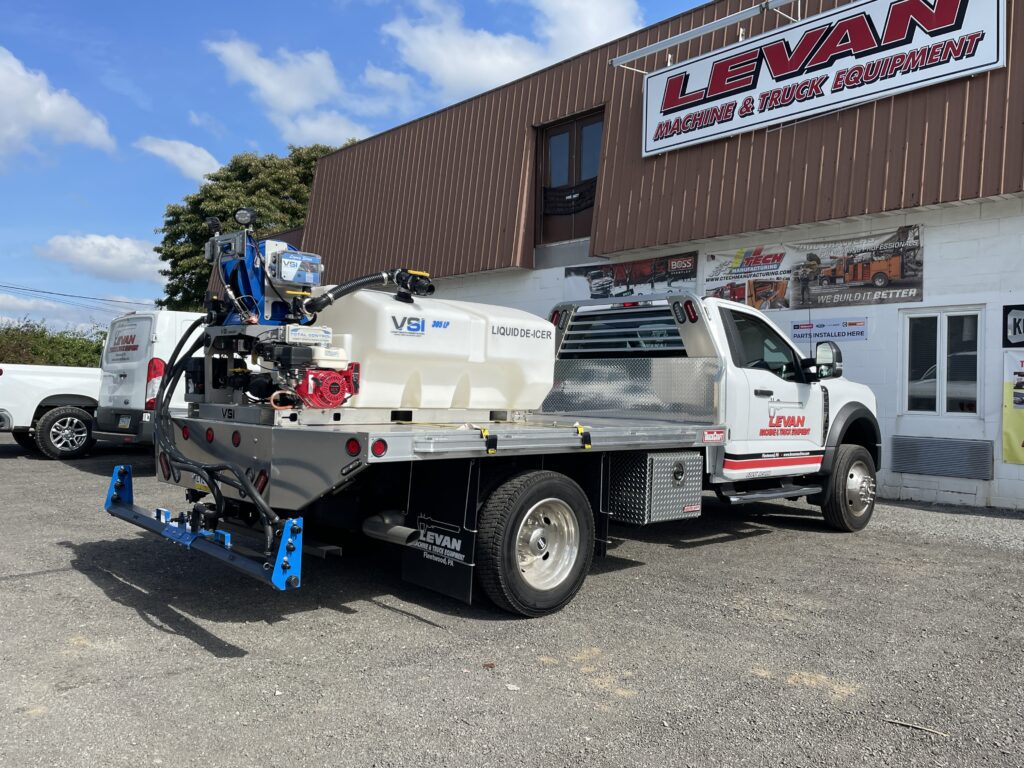 Liquid deicing is a powerful tool to have in your arsenal as a professional with jobs in snow clearing and ice control. While it has certain advantages and disadvantages compared to rock salt, it will never completely replace this solid product, nor should it! Liquid deicer and rock salt are best used in tandem, each with their own place in your operations. 
When it comes to liquid deicing products, VSI, or Voigt-Smith Innovation, by BOSS, makes some of the biggest products to be aware of. Here's what you need to know about their deicing materials!
Available Sprayers
VSI by BOSS produces several high-quality brine sprayers for use in ice control, prevention, and deicing. VSI's two main models are the Genesis series and the Legacy series of deicers. The Legacy is the most popular, with a 305-gallon capacity, an advanced electronic rate control, a "three-lane" boom, and even an available Bluetooth connection that lets you control the equipment via a smartphone app. The Genesis series is a UTV unit that holds 110 gallons, and features a spring-rewind hose reel with a 50-foot reach, a 48'' boom, and full tube fork pockets to make loading and unloading the sprayer easier.

Brine Making vs Brine Buying
When you opt for a liquid deicing approach instead of rock salt, you can either choose to buy a ready-made deicing solution, or brine, or to make your own. While both options have their advantages, making your own brine has the upside of being extremely cost-effective, and with brine makers from VSI by BOSS, the process can be easy and quick as well.
Available Brine Makers
Both the Genesis series and the Legacy series have a "Brine Buddy" or brine maker available from VSI by BOSS. The Genesis Brine Buddy produces up to 1,000 gallons of brine, while the Legacy Brine Maker can produce up to 3,500 gallons, keeping you stocked for the entire season. 
With tools like these to help you make and use liquid deicing solutions, you'll be ready to keep that dangerous winter weather in check all season long. Ready to learn more about VSI by BOSS products? Contact us at Levan Machine and Truck Equipment with your questions, and one of our team members will help you!